Earth Machine Compost Bin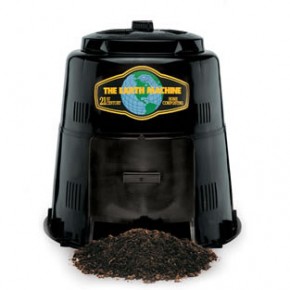 The Earth Machine compost bin has become a kind of classic among compost bins. It's a real work horse of a compost bin that's nearly indestructible. I have had one for over a decade and it works just as well as when I first bought it. The Earth Machine has proven itself to the point where it is the most successful bin of its type in the world and is often the brand of compost bin supplied by local municipalities in their composting programs.
The Earth Machine bin holds a volume of 10.5 cubic feet (80 imperial gallons or300 litres), it weighs about 15 poundsand is 33 inches in diameter and also 33 inches in height. The bin is made from very tough high-density polyethylene that contains UV stabilizers to keep it strong and durable for many years. There are two rows of vertical air vents on the sides of the bin for air circulation. The bottom of the bin is open to the ground and the outside bottom edge of the bin has a lip around the outside with holes in it for securing the bin to the ground with the 4 supplied screw pegs. With my Earth Machine bin, I had a problem with animals burrowing under the edges of the bin to access the food waste inside so I attached a piece of chicken wire to the bottom of the bin and secured it to the holes in the bottom lip. It worked like a charm and I haven't had problems with animals since. The compost can be harvested by removing a door at the bottom of the bin and shovelling out the finished compost.
The Earth Machine couldn't be easier to use. Just open the lid by turning slightly and add your material into the top of the bin. The lid locks by turning it a quarter turn in either direction. The lid of a compost bin is often the first thing to wear out and the lid of the earth machine is very durable and strong. I've given my bin tons of abuse over the years and it continues to perform perfectly.
The Earth Machine composter comes with a 20 page book of directions on how to use the bin as well as general composting instructions.
Pros and Cons of the Earth Machine Compost Bin
Cons
If bin is secured to the ground, accessing the bin in order to turn and aerate the mixture can be a bit awkward. A compost aerator tool will make the job much easier.
Pros
Tried and true design and functionality that has stood the test of time
Quality made compost bin that is almost indestructible
Very easy to use
Fairly inexpensive for such a quality compost bin