Geobin Composting System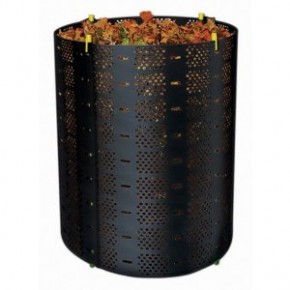 You would be hard pressed to find any other commercial compost bin that is as cheap as the Geobin Composting System. This bin is often found for sale on Amazon and other online retailers for between $30 and $45. Now that is really cheap! At those prices I would be tempted to buy two and put them side by side.
The Geobin compost bin can hold up to 14 bushels of material (that's a huge amount of material for a commercial compost bin). The bin is made from lightweight but strong plastic with many ventilation holes to allow an enormous amount of air into the pile from all sides. This bin has the best aeration of any bin we have used.
Filling the Geobin creates a compost pile of the ideal size (about 3 cubic feet) which enables the pile to heat up properly for maximum effectiveness. The result is a more efficient compost pile that produces finished compost in less time.
Although the Geobin isn't the most attractive solution, we can't think of a better value for effective composting of a large amount of material. It's a great choice.
Pros and Cons of the Geobin Composting System
Cons:
The bin is open at the top so animals and other pests could get into the bin.
Some users have said that the bin needed additional stakes to keep it from falling over.
Although the Geobin is made from very sturdy plastic, it is unlikely to last as long as a more solid bin made of harder plastic.
Some users have said that the stakes supplied with the bin are a bit too short to secure the bin to the ground properly.
Pros:
Users report that the bin is easy to assemble.
We can't think of any other bin with as much ventilation as the Geobin. Sometimes a simple, low cost solution makes the most sense.
The price – we can't think of a better commercially available compost bin for the price.
Easy to turn the compost pile if you have extra space in your garden. Just lift the bin off, set it next to where the old bin was and fork the material back in.
The price (again) – because it's so cheap that most people will be able to afford to buy two bins instead of one, enabling them to have one batch of compost "cooking" while being able to add new organic material to the second bin.