Soilsaver Classic Compost Bins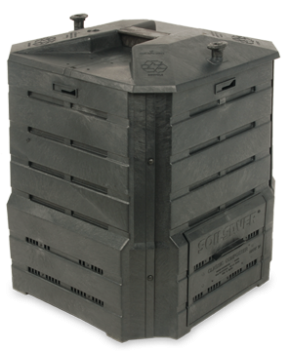 The SoilSaver Classic compost bin is often regarded as the Grandaddy of commercially made compost bins. The Soil Saver composter has been in production for over 25 years and has really stood the test of time.
It is a practical, no nonsense compost bin that is sturdy and will last for many years. The 28 inch square top opening makes it easy to turn the contents of the bin.
This composter has a large capacity of 11.5 cubic feet and has latching lid handles and self watering holes (although not much rain water would actually get through the holes). It is made from very sturdy black insulated foam plastic which is said to absorb heat well and is an excellent choice for colder climates. There are also air holes in the sides and near the bottom of the bin.
The SoilSaver bin can be assembled very easily and without the need for tools and the sides panels bolt together very easily. There are also two doors at the bottom to harvest the finished compost.
Features of Soilsaver Compost Bins
Insulating UV-resistant foam construction holds in the heat.
Watering holes in the lid keep compost moist and healthy.
Durable nylon fasteners resist rust.
Large capacity serves a household of up to 5 people.
Specifications
Dimensions: 28″ square x 30″ tall
Volume: 11.5 cubic feet
Weight: 30 lbs.
Material: Polyethylene, 50% recycled HDPE plastic content