Envirocycle Mini Composter / Compost Tumbler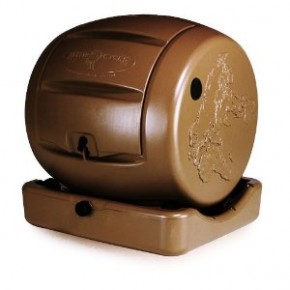 One look at the Envirocycle Mini Composter and we were smitten. Despite being practical gardeners who compost on a fairly large scale we just can't help but love this little guy. For many people, such as avid gardeners or those with large families, the Envirocycle Mini Composter will be too small to be useful. But we can see this compost tumbler being really popular with a lot of people who are new to composting. This would be one of the best compost bins for those living in a condo or apartment, people living on their own, and for both students and seniors.
The Envirocyle Mini Compost Tumbler comes fully assembled and ready for use. It's made of tan color recycled plastic (meant to blend in with the colors of nature) and is constructed with a high percentage of post-consumer and post-industrial recycled plastic. The Mini is small enough to fit in a very small area such as on an apartment balcony, or a deck or patio, but it also wouldn't be out of place in a garden.
As mentioned in our original post on the larger Envirocyle Compost Tumbler, the Envirocycle compost tumblers have been around for over 20 years and are some of the best two-in-one tumblers; in that they efficiently create compost and collect compost tea.
The Envirocycle Mini Compost Tumbler comes fully assembled and feels like more of a "spinning" composter than a compost tumbler. The drum spins smoothly and effortlessly on the base which is also used for collecting compost tea. The base is fitted with small rollers to help the drum spin easily.
Collecting compost tea in the base is quite simple. To collect the liquid you insert a supplied plug into the center holes in the base, diverting the liquid into the reservoir. Plugging the holes at the extremities of the base while leaving the center hole open allows the liquid to drain out into the ground if desired. The manufacturer claims that most users can have finished compost in 4-6 weeks if the bin is turned often. Despite being so hip and cool, the Envirocycle is still a solid, practical compost tumbler bin.
Pros and Cons of the Envirocycle Mini Composter / Compost Tumbler
Cons
Some users have been concerned about the bin not having enough air vents. Compost tumblers have a tendency to maintain high moisture levels so cutting back on adding water and adding more carbon material is a good idea if the compost seems a bit too wet
The bin is too small for avid gardeners or larger families who have a large amount of material to compost. Those people should consider the original Envirocyle Compost Tumbler.
Pros
Simple and elegant in both design and functionality. Envirocycle makes some of the best compost tumblers on the market.
Perfect for beginners to composting as well as people living in apartments or condos who want a compost bin on their balcony or deck
Undoubtedly the cutest and coolest compost tumbler ever made
Excellent for collecting compost tea
Comes fully assembled
Links and further resources: