Envirocycle Original Composter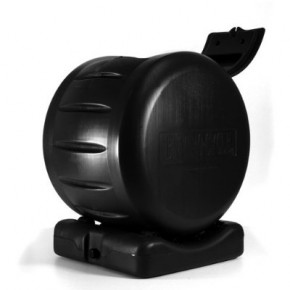 This compost tumbler bin is definitely the cool kid on the block. In fact, the Original Envirocycle composter is pretty much the coolest composter on the market. Everything from the design of the Envirocycle bin to the company's advertising seems hip and cool. But just because these bins are popular with urban hipsters doesn't mean that they aren't worth serious consideration by the rest of us. In fact, Envirocycle composters have been around for over 20 years and are very efficient two-in-one composters; in that they efficiently create compost and collect compost tea.
The Envirocycle composter comes fully assembled and is constructed of BPA free post consumer recycled plastic. It feels like more of a "spinning" composter than a compost tumbler. The 7 cubic feet capacity drum spins smoothly and effortlessly on the 3.8 gallon base for collecting compost tea. The base is fitted with 8 small rollers to help the drum spin easily.
Collecting compost tea in the base is quite simple. To collect the compost tea you insert a supplied plug into the center holes in the base, diverting the liquid into the reservoir. Plugging the holes at the extremities of the base while leaving the center hole open allows the liquid to drain out into the ground if desired. The manufacturer claims that most users can have finished compost in 4-6 weeks if the bin is turned often. Despite being so hip and cool, the Envirocycle is still a solid, practical compost tumbler bin.
Pros and Cons of the Envirocycle Original Composter
Cons
Some users have been concerned about the bin not having enough air vents
Some users have complained that the plastic door latch has become a bit warped over the years.
Pros
Simple and elegant in design and functionality
Reasonably easy to turn the bin, even when full
Excellent for collecting compost tea
Comes fully assembled