Good Ideas Compost Wizard Jr. (7 Cubic Feet)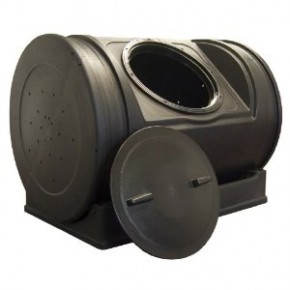 The Good Ideas Compost Wizard Jr. is a scaled back version of the original, larger Compost Wizard tumbler, which is a good thing, because we heard from users that when the larger original model was full it became difficult for many people to turn. The Compost Wizard Jr. is a more manageable size and is a much more practical compost tumbler for most people.
The Compost Wizard Junior can hold up to 7 cubic feet of material and comes fully assembled. It consists of a large black drum shaped bin that sits horizontally on top of a base. Both the base and drum are made of black resin from 100% recycled material. The base is fitted with small wheels that fit into channels on each end of the bin, enabling the bin to turn more easily. Each end of the tumbler bin features small air holes to allow air to flow in and out of the bin. The lid of the bin twists on and off and is 12 inches in diameter. The bin can be easily removed from the base, making it easy to roll a bin to where you want it before removing the finished compost.
This is a solid, practical compost tumbler that will work well for many people provided that users consider the following:
The Compost Wizard Jr. model is much easier to turn than the original Compost Wizard but as with most compost tumblers people have a tendency to overfill the bin. In general, compost tumblers are only meant to be filled between 1/2 and 2/3′s full. Keeping the volume of material at the proper level should allow the bin to turn more easily.
Some users have had problems with their compost being too wet and soggy. With any compost tumbler it's important to avoid adding too much water to the mixture (and also be careful not to add too much green, nitrogen rich material) because tumblers tend to retain moisture very well. One advantage of the Compost Wizard is that it's very easy to add additional air additional holes in the ends using a standard drill.
Pros and Cons of the Compost Wizard Jr. Compost Tumber
Cons:
Can be a bit difficult to turn if the bin is too full
Bin tends to retain moisture, it may be necessary to add additional air holes
Lacks an "aeration bar" to help break up clumps of material, found in some other compost tumblers (Breaking up clumps of material helps to get more air into the mixture, speeding up the decomposition process).
Pros:
Solid, sturdy compost tumber for the price
Very easy to remove the bin from the base and roll it to where you want to use the finished compost
Comes fully assembled and ready to go
Made from 100% recycled material
Specifications:
7 cubic foot capacity
Fully Assembled – Low maintenance
Wheeled Base
Large 12″ twist lid
Safe for pets and children
Black color for heat absorption
30″x"22″x23.5″ at 27lbs