Lifetime Compost Tumbler (80 Gallon Composter)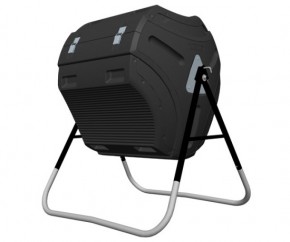 We are big fans of the Lifetime compost tumblers (80 gallon) because they are such a good value. It takes a bit of time and effort to assemble this compost tumbler but we think it's worth the effort. Here's why: for a very reasonable price you get a heavy duty compost tumbler that is practical, solid and made to last without any useless bells and whistles that you don't really need.
The Lifetime 80 Gallon Composter has double walled panels meant to absorb heat and is said to keep the compost material quite hot even on shady days. It has an extra large lid making it easy to add and remove material from the bin. The bin is sturdy but fairly lightweight making the turning of the bin quite easy. There is a bar inside the bin that helps break up material as you rotate, getting more oxygen into the compost mixture.
Pros & Cons of Lifetime Compost Tumblers
Cons:
Takes much longer to assemble than many compost tumblers. Some people have found it very complicated. You may need a few hours and a lot of patience.
Turning isn't quite as easy as some of the more expensive compost tumblers. If the bin is more than half full it takes a bit of effort to turn.
Pros:
Excellent price for a heavy duty compost tumbler
Shipping package is very small making it inexpensive to order from Amazon or other online retailers
Very large bin with a very effective and practical design
Specifications:
Material of Construction: High-Density Polyethylene (HDPE) Plastic, Galvanized Steel
Total Dimensions: Width 40 in. (1.01 m), Length 35.5 in. (90.17 cm), Height 43 in. (1.09 m)
Tumbler Capacity: 80 gal. (302.8 liters), 10.72 cubic feet (0.303 cubic meters)
Composter Weight: 57 lbs (25.85 kg)
Warranty: 5 year Limited Factory Warranty