Tumbleweed 58-Gallon Rotating Compost Tumbler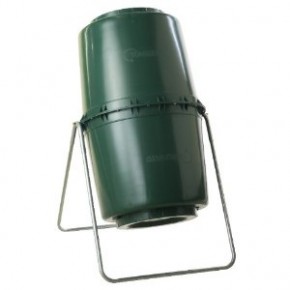 The Tumbleweed 58-Gallon Rotating Compost Tumbler is a lightweight medium sized compost bin that is very simple and easy to use.
Compost tumblers are great for people who find it physically difficult to manually turn a traditional compost pile. They are also useful for those of us who just never seem to get around to turning their compost. For many of us there is always something more pressing on our list of garden chores! As with most compost tumblers the idea of the Tumbleweed bin is that turning and aerating the compost is so easy that you can do it every day or every few days, whenever you happen to be in your back yard or on your deck. And turning your compost considerably speeds up the process of decomposition, producing finished compost in a fraction of the time.
The Tumbleweed bin is of very simple design, and works by turning or tumbling the unit, which rotates on a rod running through the middle of the bin. Inside the bin, an aeration bar assists in breaking up the materials in the bin to expose them to more air. The Tumbleweed is easy to assemble with just a screwdriver and has very few parts.
Many people who like the Tumbleweed bin end up buying a second one so they can have one bin with finished or nearly finished compost and they can add new material to the second bin without delaying the decomposition process in the first bin. The two Tumbleweed bins side by side don't take up much more room than a single one.
Pros and Cons of the Tumbleweed Rotating Compost Tumbler
Cons
The bin is a bit harder to turn than some other compost tumblers.
Some users have reported that moisture can escape from the air vents while turning the bin.
The unit is a bit lightweight and not nearly as durable as some of the other more expensive compost tumblers on the market.
Pros
Completely rodent proof with very few problems reported with flies and other critters.
Easy to operate
The bin itself is very lightweight, is very easy assemble and takes up very little space.
Specifications:
100% UV protected recycled plastic
Galvanised steel frame
Stainless steel breaker bar
Capacity 220L
Size 117cm x 85cm x 65cm
Made in Australia