Tumbleweed Worm Cafe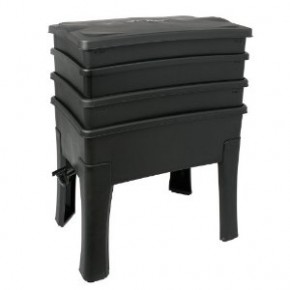 The Tumbleweed Worm Cafe is a really large worm composting bin. It's definitely not the most stylish worm bin on the market. In fact, it's a bit of an ugly duckling, but it's a solid, practical worm bin that gets the job done as advertised. The Worm Cafe is made from 100% recycled black plastic and has 3 large capacity working trays each with side ventilation. The unit is fitted with a hinged, fly proof lid, with instructions permanently printed on the underside. The lid can be propped open using attached clips to keep it out of the way when adding new material to the composting bin.
The Worm Café also has a special non-drip design that's meant to avoid any compost liquid from running down the legs of the unit and onto the floor. The legs of the Worm Café are very sturdy and this bin is more stable than other composting bins of similar size. Compost tea is collected in a collector tray where it can be accessed using a spigot.
All in all this is a very sturdy, practical worm composter.
Pros and Cons of the Tumbleweed Worm Cafe composting bin:
Cons:
Some users from very hot climates have found it necessary to add supplemental air holes in the unit to increase air circulation.
Pros:
Large capacity
Very sturdy construction
Good overall value
Specifications:
Stylized hinged, fly proof lid
Three large capacity rectangular working trays
Unique side working tray ventilation
Non-drip design
Ventilated collector tray, with worm mound, tap and sump
Stylized legs with ant prevention
Coir brick
Instructions engraved on underside of lid
Black 100% recycled plastic
22.4″ x 15.4″ x 29.5″ (57 cmx39 cmx75 cm)
2 Year Limited Warranty